Vet Visits are Fun!
Sanitary Cuts
Wise Owl Animal Hospital sanitary cuts are like hair cuts for your dog or cat. They are designed to help your pet feel cleaner in those less-than-pleasant areas. All sanitary cuts include:
Trimming of facial hair
Trimming of hair under pet's feet and around their pads
Trimming of hair around the anal & genital area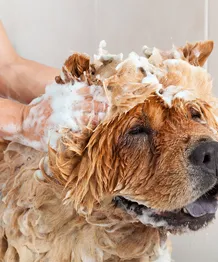 Basic Package
The Basic Grooming Package at Wise Owl will help your pet feel clean and beautiful all over. All basic packages are designed for both cats and dogs. They include:
Ear cleaning
Toe nail trim
Bath with unscented shampoo
Drying
Extra Packages
Looking to pamper your pet with additional beauty and cleanliness? Ask our staff about adding any of the following to your pet's grooming package:
Scented Shampoo
Anal gland excretion
Call us today to schedule a grooming appointment at (671) 646-2273.