Our mission is to provide superior professional veterinary care by combining the best of traditional and integrative medicines. We strive to be an ideal place of employment, providing continuing education for our staff and community. We are ecologically minded, socially and politically active for the benefit of our home, Isla Guahan.

Here you'll find everything you need about Wise Owl Animal Hospital and how we can help you. We have online forms for many of our services, resources, and information about what to expect on your visit.

---
Welcome!
Choosing the right veterinarian is critical to your pet's health and welfare. With a staff of highly certified technicians, the only certified dental hygienists on island and veterinarians specializing in traditional and integrative medicine, you can have confidence in selecting Wise Owl Animal Hospital as your "OTHER" family doctor.
New clients are just as important to us as our currently loyal clientele and Wise Owl accepts new clients by application. If you are meeting with us for the first time, you must schedule and participate in an initial wellness exam prior to receiving any additional services. It is necessary for our veterinarians to perform a complete check-up to diagnose any problems and determine a course of treatment.
Simply complete the New Client Application Form.
Please don't hesitate to call us at (671) 646-2273 with any questions. Our staff is pleased to answer questions or advise you about our general policies and procedures.

---
Appointments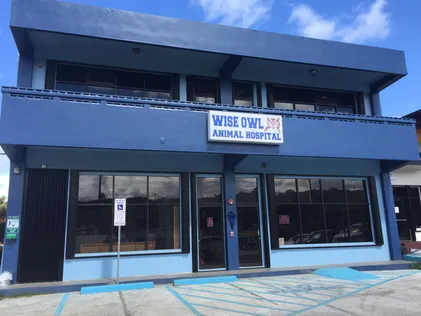 We are happy to see clients by appointment and do give preference to clients with appointments. However, we know that your pet does not always get sick at convenient times, or when there are open appointments. Work-ins are welcome while availability lasts, and are seen on a triage (most injured) basis and then in order of arrival.
While we will attempt to accommodate work-ins, we find that scheduling appointments ensures that each animal receives the attention it deserves in a timely manner. Please arrive 10 minutes before your scheduled appointment to allow time for check-in and any necessary paperwork.
For new patients, please arrive 20 minutes early to complete the first-time registration and check-in process. If you have veterinary records, vaccination history or lab results, please bring those as well so we can have a complete history on file.
Please also view our payment policy here.