Dr. Sir Joel Joseph DVM, BS VS
"DOC"
Dr. Joseph wanted to be a veterinarian since he was 6 years old. He is one of a handful of students who achieved a Bachelors Degree in Veterinary Science (BS VS) as a 1986 graduate of Michigan State University College of Veterinary Medicine. Dr. Joseph first established Wise Owl Animal Care using his jeep to provide house call services. Wise Owl soon grew into a full "hospital on wheels" including X-rays, surgery, dental, laboratory and ultrasound equipment in 2 motorhomes. As his popularity grew, the mobile clinic was expanded into Wise Owl Animal Hospital, the Michigan Exotic Animal Specialty Services and the Center for Advanced Ferret Care (a USDA approved research and teaching facility).
Moving to Guam in 2001, Dr. Joseph worked as a relief vet for many of the clinics as well as the US Military; becoming the primary veterinarian for the opening of the first military pet quarantine on island. Dr. Joseph soon established Wise Owl Animal Hospital in Guam. Once again he started out doing house calls and working for The Southern Comfort Zoo and Ranch in Merizo, Guam. The new Guam Wise Owl Animal Hospital has brought high quality, low cost veterinary care to the island's pets and residents.
Dr. Joseph has also been very active in bringing veterinary care to remote places where previously none existed. He has worked at free clinics in Nicaragua, Dominican Republic, St. Croix, Palau, Fiji, and many other places (42 Pacific Islands and counting). In 2002 he established a clinic in Pohnpei, FSM. This flourished into a Non-profit NGO – Pacific Islands Veterinary Service – servicing The Marshall Islands, Pohnpei, Chuuk, Kosrae, and Yap.
Dr. Joseph's favorite sport is white water rafting and he can be found doing extreme sports including bungee jumping, canyon swings, mountaineering, zip lines, quad riding, parasailing, ballooning, spelunking, and more. Though he enjoys his daily beach walks/swims with his dog Cheyenne most of all.
---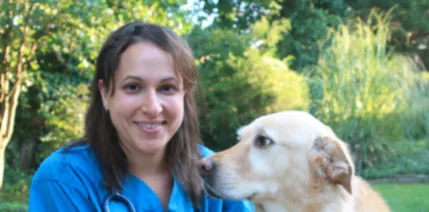 Dr. Genevieve Weaver DVM
Dr. Weaver is from New Jersey and attended Columbia College in New York City graduating in 1998 with a BA in Environmental Biology. She attended veterinary school at Tufts University in Grafton, Massachusetts with a focus on zoo, wildlife, and conservation medicine graduating in 2004 with a DVM and a certificate in International Veterinary Medicine. She also received an MPH (Master of Public Health) from the University of Iowa in 2010. She was a military veterinarian for 3 years after graduating veterinary school and was stationed at Camp Lejeune and Korea. She also practiced in Austin and San Antonio, Texas where, in addition to private practice, she worked as a veterinarian at both SeaWorld San Antonio and a wildlife rehabilitation sanctuary.
Dr. Weaver most recently moved from Columbus, Georgia where she practiced at a small animal hospital that introduced her to the wonders of laser therapy to treat a variety of conditions and as a method of acupuncture. Dr. Weaver received her Certification in Veterinary Acupuncture from the International Veterinary Acupuncture Society in 2011. She is currently working on a Certificate in Veterinary Chinese Herbal Medicine and Food Therapy. She is eager to bring veterinary acupuncture and integrative medicine to the island.
When not working, Dr. Weaver enjoys spending time with her husband and children, two cats and chihuahua, Penny. She also enjoys cooking, gardening, running, swimming and yoga. She is loving the island life and is enjoying hiking, paddle boarding, and snorkeling.