Your Pet's Surgery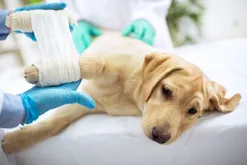 Perhaps the most important pre-surgical step we take at Wise Owl Animal Hospital is to discuss with you why we believe a particular procedure is necessary and what it entails. We also provide information on proper pre and postoperative care and answer any questions you may have so that you feel comfortable knowing you are making the right choice for your pet. We strive to make the entire experience as stress-free as possible for both you and your pet.

Wise Owl Animal Hospital is well-equipped to perform most minor and major surgical procedures from:
General Surgeries:
Spays, neuters

and declaws
Anal gland surgery
Wound and abscess surgery
Eye Enucleations
Tumor removal
Biopsies
Foreign body removal
Exploratory surgery
Intestinal surgery
C-section (canine, feline, pocket pets)
Bladder surgery
Nephrectomy (kidney removal)
Tracheotomy
Specialized soft tissue surgery
Modified Zepp-Lecroix (ear surgery - total ear ablation)

Periodontal (Dental) surgery

(tooth, tumor removal)
Hernia repair
GDV (twisted stomach surgery and tacking)
Splenectomy
Diaphragmatic hernia repair
Fracture repair (FHO, ACL repair)
Patellar luxation
Emergency Surgeries:
Triage, trauma, car accident
Splints/bandaging
Amputations
Anesthesia
For most surgical procedures, anesthesia is required. Anesthesia protocol is decided on at the time of surgery based on your pet's individual needs. Prior to surgery, your pet is examined and a pre-surgical blood screen is also performed. The results of these tests and your pet's past anesthetic history, breed, pre-existing conditions, and age are used to create an individualized anesthesia protocol. Ensuring the health and safety of your pet during surgery is of the utmost importance to us and we employ an anesthetic and monitoring regimen that adheres to the highest principles and ideals (AAHA) of veterinary medicine.
While under anesthesia, your pet is continuously monitored by a trained veterinary technician and specialized anesthesia monitoring technology. Your pet's blood pressure, heart rate, respiratory rate, body temperature, and oxygen level are all monitored during surgery.
Pain Management
Like humans, pets in pain experience more than only physical discomfort. Pain after surgery can slow healing and worsen diseases like arthritis. Pain can also cause behavioral issues, such as aggression, anxiety, and depression, and interfere with the bond between you and your pet.
To minimize your pet's discomfort, we usually recommend a combination of local anesthetics, NSAIDs, narcotic pain relievers, laser therapy and/or acupuncture. The exact protocol is tailored to each pet, and depends on a number of factors that are determined by the pre-surgery exam and the procedure.
See how to give your dog a pill here.
See how to give your cat a pill here.
Postoperative Care and Healing
The amount of time your pet will need to be monitored after surgery varies. In some cases, pets will need a brief stay at our veterinary hospital; in
others, they can be sent home the same day. When your pet is discharged, we will provide you with information on proper home care after surgery.
If your pet is prescribed medication, we will make sure you understand how and when to administer it. We will also be available to answer questions after your pet arrives home. Contact us at (671) 646-2273 with any questions or concerns following surgery and we will be more than happy to help you.